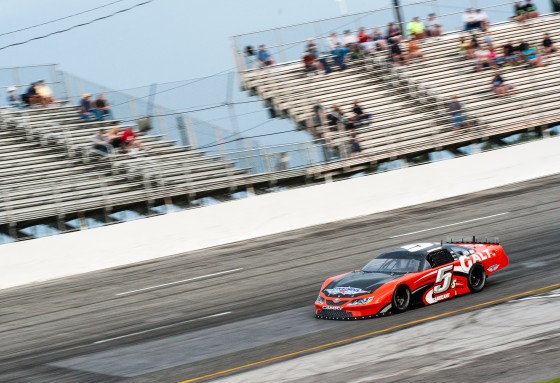 Charlotte, N.C. (December 7, 2015) – Dalton Sargeant and the No. 5s GALT Wauters Motorsports Toyota Camry team had a day full of excitement in their second Snowball Derby together. After setting the fourth fastest lap in two practice sessions, qualifying and final practice Sargeant finished in the fourth position in the historic 300-lap event.
Sargeant maintained a top-5 position on the track through 65 laps when the first caution of the day flew and veteran crew chief and owner decided to stay out while the leaders pitted, the driver agreed it would give the team a better tire allotment and position for the end of the race. The GALT Toyota Camry fell through most of the field and received the lucky dog award at lap 120, receiving the first new set of tires. Those new tires and a fast Wauters Motorsports prepared Toyota Camry allowed Sargeant to cleanly charge through the 37-car field back into the top 5 with 63 laps remaining in the event. The final laps and short green-flag runs leading up to the finish required great track position to challenge for a position near the front and the No. 5s never was able to get that track position. Sargeant fought a tight race car and his progressed stalled, finishing solidly in the fourth position, remarkably his second top-five Snowball Derby finish in his first two attempts.
"The GALT Toyota Camry was such an honor to drive in the Snowball Derby this year, prepared and under the supervision of Richie Wauters and everyone at Wauters Motorsports it was a car and team that was capable of winning. We were so close to being able to compete for the win all weekend, we placed in the fourth position more times than I think I have or ever will in my career over the course of a weekend, but everyone worked so hard to get us that opportunity. During the course of the 300 laps we rolled the dice a little and came up short, race didn't exactly go the way we planned but it was definitely exciting and fun driving back through the field but ultimately we just ran out of time. I think if we would've had a 400-lap race we may have had a chance at the lead. Proud of our last two Derby performances and can't wait to contend for a Derby win again. "
The 48th Annual Snowball Derby marked Dalton Sargeant's last event of the 2015 racing season, which included an astounding 42 events all across the United States in five different racing disciplines (Karting, Late Model Stock, Super Late Model, NASCAR K&N Pro Series and NASCAR Camping World Truck Series). Sargeant was able to rack up 4 wins, 3 pole awards, 17 top-5 finishes and 27 top-10 finishes.