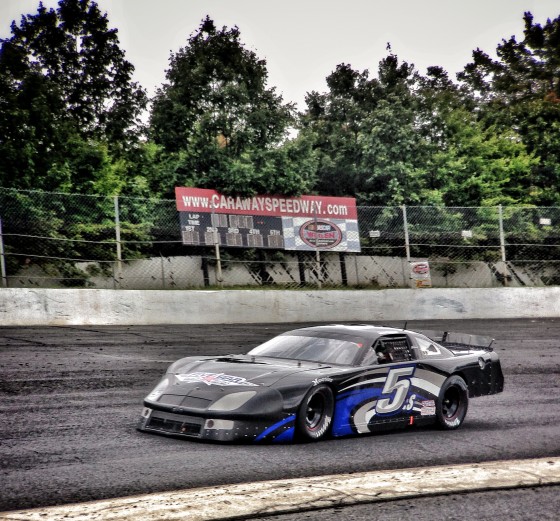 Charlotte, N.C. (October 29, 2014) - Dalton Sargeant and the No. 5 Sargeant Motorsports Ford Fusion team will make just their first PASS South Series start at one of their marquee events, the 12th Annual North-South Shootout, taking place this Saturday, November 1 at Caraway Speedway.  Sargeant, the 16 year old, stock car rookie will make just his fifth ever Super Late Model start this weekend, fresh off his first career stock car oval win one week ago at Orange County Speedway.
One Week Ago  Dalton Sargeant picked up his first ever stock car win at an oval track Saturday, October 25 at Orange County Speedway in the Late Model Stock division.  Sargeant, in the No. 54 Lee Pulliam Performance Chevrolet SS, qualified on the pole position and led every lap, en route to his first career win.  The Orange County event was the last for 2014 in a Late Model Stock car for Sargeant, and he capped off his rookie season with two wins (Orange County Speedway and Virginia International Raceway), and 23 top-10 finishes at 10 different racetracks.
Caraway Speedway   Dalton Sargeant will return to Caraway Speedway for the fifth time in his career, but will make his first appearance with the PASS Series.  In those five starts, Sargeant has accumulated three top-10 finishes including two top-three finishes in the Late Model Stock division.  Caraway Speedway was built in 1966 and in 1972 was configured into the .455-mile asphalt oval it is today.  For three seasons the NASCAR Busch Series (now the NASCAR Nationwide Series) held events at the facility, with drivers like Dale Earnhardt, Jack Ingram and Butch Lindley visiting victory lane.  Other track champions at Caraway Speedway include Bobby Labonte, Dennis Setzer, Mike Skinner and Justin Labonte.
Social Media Don't forget to follow Dalton Sargeant on all social media platforms such as Twitter (@DaltonSargeant), Instagram (@DaltonSargeant), and Facebook (@Dalton Sargeant Racing).  For live, in-race updates of all the at-track action, follow @DaltonSargeant on Twitter.  You can also watch the 12th Annual North-South Shootout from Caraway Speedway with 51 Live TV, offered on Speed51.com.
"Definitely a big weekend coming up for us in the Super Late Models at Caraway Speedway with the 12th Annual North-South Shootout.  I'm really looking forward to making my first PASS Series start, as its been a such a great proving ground racing series for drivers who have made it to the next level in NASCAR.  With that being said, I hope I can add my name to the long list of drivers who have used the PASS Series to launch their career and some that are currently making a name for themselves.  I think we as a team are in a really good position right now and are bringing a little momentum into this weekend's event from our first win at Orange County Speedway last weekend.  I always look for good finishes when working with legendary driver and crew chief Bobby Gill, and this weekend at Caraway Speedway will be no different.  Bobby and I have been working together for a short amount of time, but I think that relationship is already showing results with our good run at Winchester just a few weeks ago.  Along with a track that I have a fair amount of experience at I think we should be pretty good as soon as we unload Thursday for practice, and hopefully that transfers into the entire weekend."